Aberystwyth chef wins big on BBC cooking show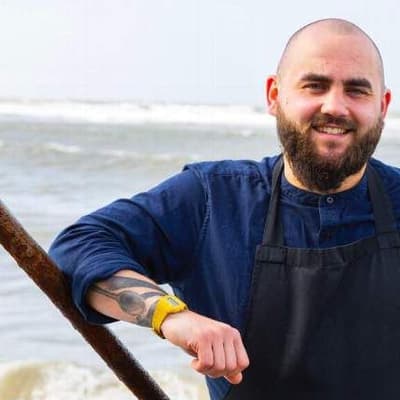 An Aberystwyth chef has secured a place on the menu at a banquet, celebrating 100 years of the BBC, after winning a televised cooking competition.
SY23 head chef Nathan Davies will prepare the entrée at the banquet, having beaten 32 of the UK's top chefs on the BBC's Great British Menu cooking show.
The show sees four chefs from eight regions of the UK, including Wales, compete, with the finalists from each of the regions competing against each other. Four of them will cook a dish at the banquet, and an additional finalist will serve their canapés and pre-desserts at the banquet.
After being tasked with picking a winner from eight "innovative" entrees, Nathan won first place on the banquet menu, serving entree to attendees.
Of his win, Nathan said, "To go all the way and get a dish at the banquet is an amazing achievement, and just a nice way to end the whole process."
Nathan added: "My dish was inspired by Merlin the TV show. I wanted it to be a medieval broth, and being in Wales we have fantastic lamb and all those wonderful ingredients that lend themselves quite naturally to the dish.
"The whole thing was difficult to perfect. The last two years have been pretty tough, so it's been a nice escape to do something a little different. It's a tough competition, with a lot of very good chefs, and in particular, I found my heat week very strong.
"All I wanted was to do better than last year, so my goal was to make it to finals week. Luckily for me, I got the first course, which relieved my pressure for the rest of the week. I could really enjoy it.
"I think the competition has changed considerably. Last year I got a really high score from Tommy Banks, the veteran chef, but as far as the judges table went, they didn't get where I was trying to go with the food. Having someone like Tom Kerridge on the panel, someone who not only did a lot in the industry, but is still in the industry now, really helped me I think.
On working on a TV show versus in a kitchen, Nathan said, "I work quite methodically the way I've set myself up, so I think you almost have to forget that the cameras are the. Enjoy the process first and foremost, and get stuck into it.
"I think it helped to bring my barbecue from home that I cook on all the time in restaurants, so I just relaxed and enjoyed the process. It's something unique, compared to our daily work, but to be honest, I really enjoyed it.